DataForm PRO - Introduction
Developed since 1989, DataForm PRO is the complete British and Irish horse-racing form studio for your PC. DataForm PRO's database, which includes all British and Irish Flat, Jumps and All-Weather results with ratings and comments-in-running since 01/01/2001, resides on your PC's hard-disk so you can study form at your leisure OFF-line. No input is necessary. Just point and click on any race, horse, trainer, jockey, or course to zoom in to detail. View the form of all runners of any race collectively and make easy visual comparisons.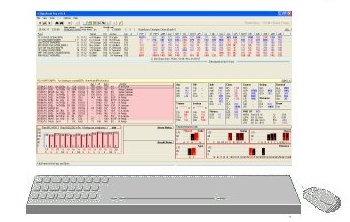 DataForm PRO summarises and compares the form of each runner of each race for you and highlights all the positives and negatives helping you quickly identify those in with a chance.

Statistics
DataForm PRO uses sound statistics to present you with the most significant pointers for each race in question.

Betfair Interface
DataForm PRO connects directly to the Betfair Betting Exchange giving you LIVE prices and fast, hassle-free betting Win or Place, BACK or LAY, even in running.

Interactive
Lots of tools are included to help you personalise your results database, like Private Handicapper, Private Speed Rater, Private Goings and Private Notes.

Pro-Analyser
DataForm PRO comes complete with a very versatile Systems Analyser which allows you to create and test BACK and LAY systems. Qualifiers of your systems are highlighted in DataForm PRO when they run. Many profitable systems already discovered are supplied free to get you started.

Pro-Export
For the more technically-minded, DataForm PRO's Export tool will export virtually any of its data, including racecard and results data, to comma-separated values (.csv) files.